2017-12-29 14:01:32
Updated 2018-05-16 10:43:13
What to wear on a run – choosing running clothes for different weather
Running a marathon tomorrow and still don't know what to wear? Before going on a long distance, you need to know how to prepare for the run and how to pick up running clothes.
First thing first, there are three main factors, depending on which you decide what to wear:
Type of race; your choice of running clothing varies a lot whether it's trail or road run.
Weather and temperature; this is the main reason to affect your apparel and gear.
A significant difference is in the distance; whether it's marathon or half marathon, 10K or ultramarathon, X-hour or multi-day race determines what you should wear.
Running in hot weather
Choosing running clothes for long-distance running in hot weather is more difficult than it seems. That is, due to temperature regime of a body. Newbie runners often don't take that into account and dress too warm, which leads to overheating.
Remember, that after few kilometers or miles it feels like 10° C / 50° F more than it actually is. That makes racing on hot days with 25°+ C / 77° F kind of extreme sport.
We do not encourage running on stuffy days. But if you set your mind to do it, we're going to tell you how to choose your clothing right.
Dress lightly
You need as fewer clothes as possible; this way your body spends less energy to cool down. It works pretty much for any temperature over 20° C / 68° F.
Despite the season and weather, you should always avoid wearing cotton running clothing when because it holds your sweat and doesn't dry quickly. Synthetic fabrics are much more breathable and will draw moisture away from your skin, so cooling evaporation occurs.
Women can wear trunks and top. There's also debate whether girls should race in a sports bra, but we recommend wearing it as it prevents your breasts from moving independently. Also, women are more likely to take shallower and quicker breaths without a sports bra as there is more pressure on their rib cages.
For men the choice is running shorts and t-shirt; some run even shirtless. Running shorts must be short and loose enough to provide proper ventilation. You can race without underwear on a torrid day. In this case, make sure your shorts have an inner net as in swimming trunks.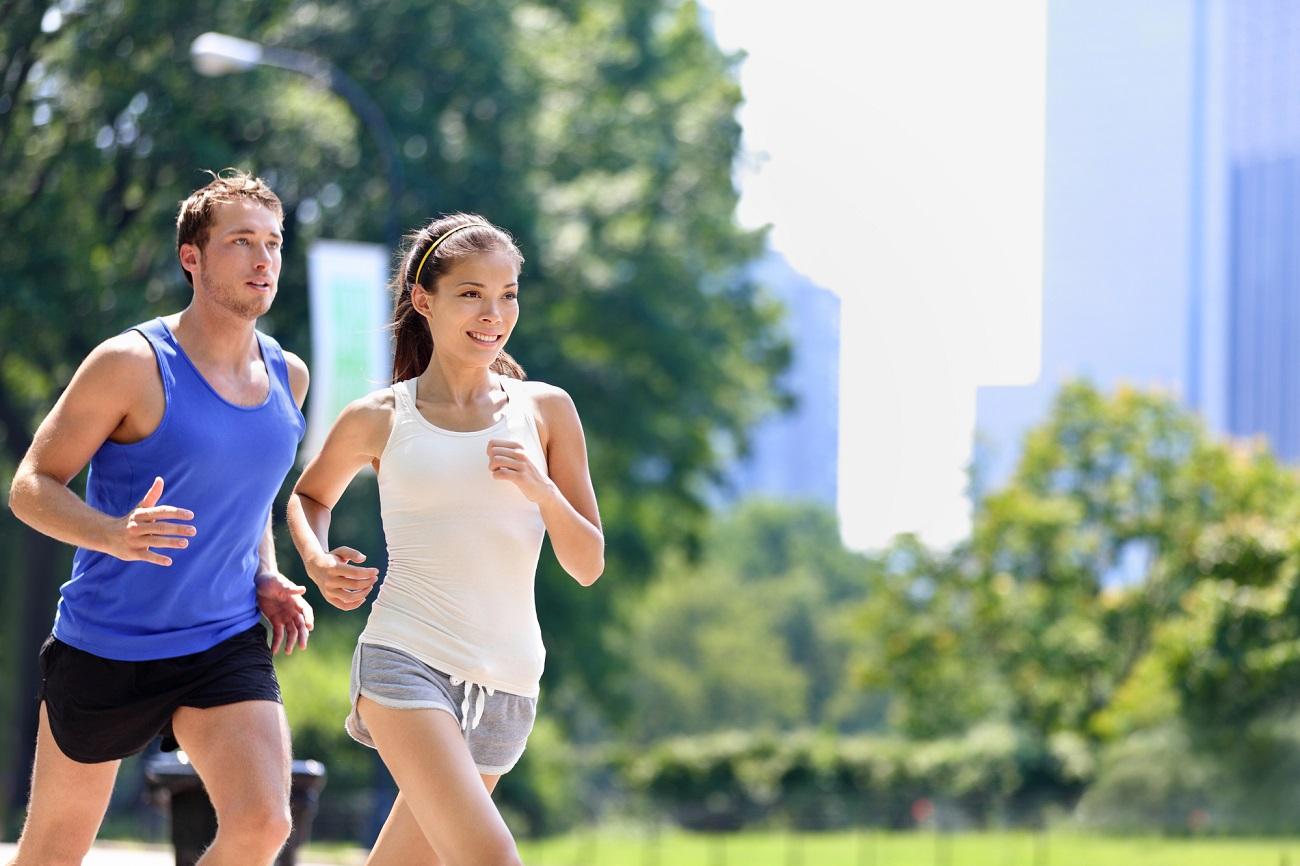 Choose white or light running clothes, as they reflect more sunlight from your skin. Also, don't forget about sunglasses and cap on a sunny day.
Pay attention to how your clothes fit. Shirt, t-shirt, and shorts shouldn't tight. Otherwise, by the end of the distance you will have chafings or even bleeding wounds. To avoid this, get the seamless running clothing or coat the inner seams with lubricant, especially socks. Some athletes lube body parts instead of apparel. This method is useful for summer jogging when your body parts are unclothed.
Make sure you have the most important running gear item: a water bottle. You can carry it in hands or get a runner's belt with a carrier for bottle or two and some snacks.
And don't forget sunscreen!
How to dress for a trail run
It is much like a road one, yet there are some specifics. For example, trail racers wear longer running socks to protect their legs from scratching. Or they wear caps with flat peaks to protect their faces from sunlight.
The most significant contrast is in shoes. You must have trail running shoes. They have a distinctive sole for different surfaces with protection. On the part of other running clothes organizers usually, provide some guides with recommended and required clothing for a specific race. You should follow their advice to be sure what trail gear you need.
Essential trail gear
Get a decent trail running backpack. You can't underestimate the importance of the right backpack that won't stall and bounce, but instead, fit comfy and provide support throughout the distance. So don't hesitate to spare some time and money to get the running backpack that suits you best. Choose the one that has a hydration system (camelback or a place for flasks on the front straps), a convenient fixation of straps on the chest, and fasteners for sticks.
When you get THAT one backpack, put a med kit in it. If you don't want to overweight it, there are some essential items you should have: lubrication, patches, elastic bandage, painkillers, wet wipes, and lipstick with some coiled tape on it.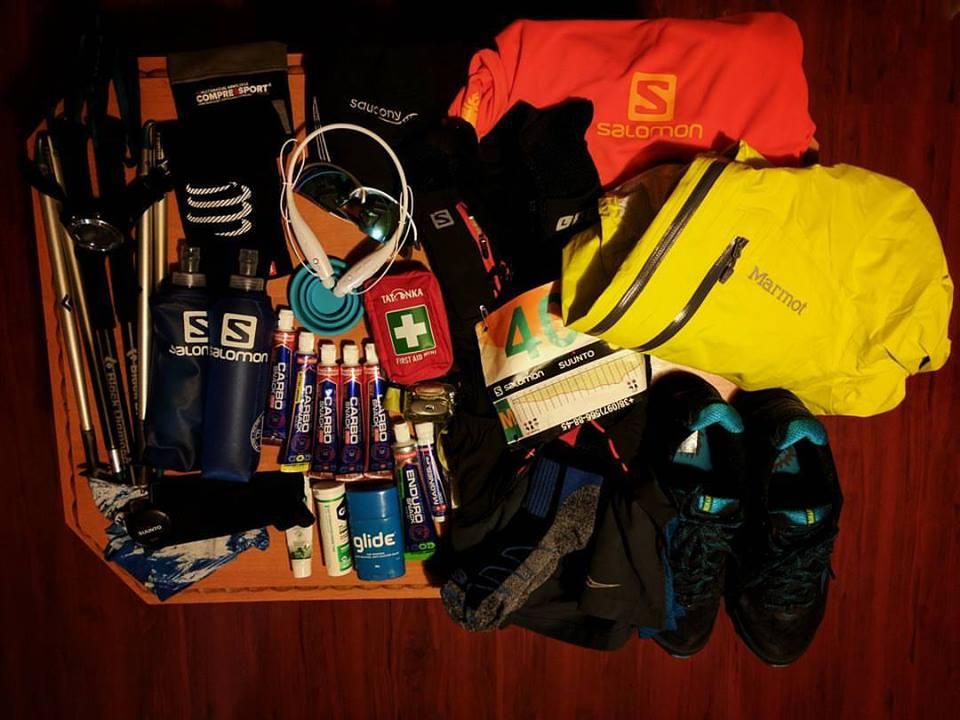 Other must-have items, often required by organizers, include:
a space blanket that can keep you warm as well as cool down;
trekking poles;
phone and GPS tracker with preloaded maps, in case you get lost;
fully charged flashlight and spare batteries;
water, a lot of water;
consider carrying a windbreaker in case the weather goes bad.
Note: Make sure you have at least 1.5 liters or 0.4 gallons of water with you
Pro tip:
pour some water on your neck and inner part of hands to cool off
Cold weather running
Racing long distance in winter is harsh and challenging. But fun nonetheless! You just need to know how to dress appropriately, and we are here to help you.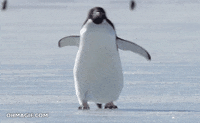 Layering for cold weather
There is one main rule of dressing for cold weather race: make layers from clothes. Here's how it works.
The first layer, usually a long sleeve shirt, is to draw away sweat and water and keep your body dry. That's why you need your running clothes to be made of polyester, as it lets your body breath.
The second layer to keep you warm. Runners usually use fleece coat, that keeps your body heat and dries fast.
The third layer, a windbreaker or waterproof coat. This layer protects you from wind, snow, and rain. You need to choose your jacket carefully, so it lets your body breath, draws away moisture, and doesn't stall your moves.
What to wear running in cold weather
Below is the example of clothes you should wear, based on temperature level. These are sets of apparel for women and men.
0° C / 32° F
long thermal running tights or regular leggings with thermal underwear; t-shirt or long sleeve shirt and fleece coat or running jacket
use some gloves and warm hat
-5° to -10° C / 23° to 14° F
three layers on top: t-shirt, fleece jacket, and running coat; one or two below the waist
-15° C / 5° F and lower
thermal tights along with thermal underwear; you can also add shorts on top, not only for warmth but confidence as well. Above the waist you must have three layers: long sleeve shirt, fleece coat, running jacket; you can also put some thermal underwear if you get cold.
add to gloves and hat warm socks and buff
Racing in winter is not that dangerous as many people think, you just need to be well-prepared. And the focus here should be on your shoes. The surface in winter can be very different, from dry asphalt roads to snowdrifts and ice. We don't recommend you to run in extreme conditions no matter how bad you want it. Think about your health and safety first.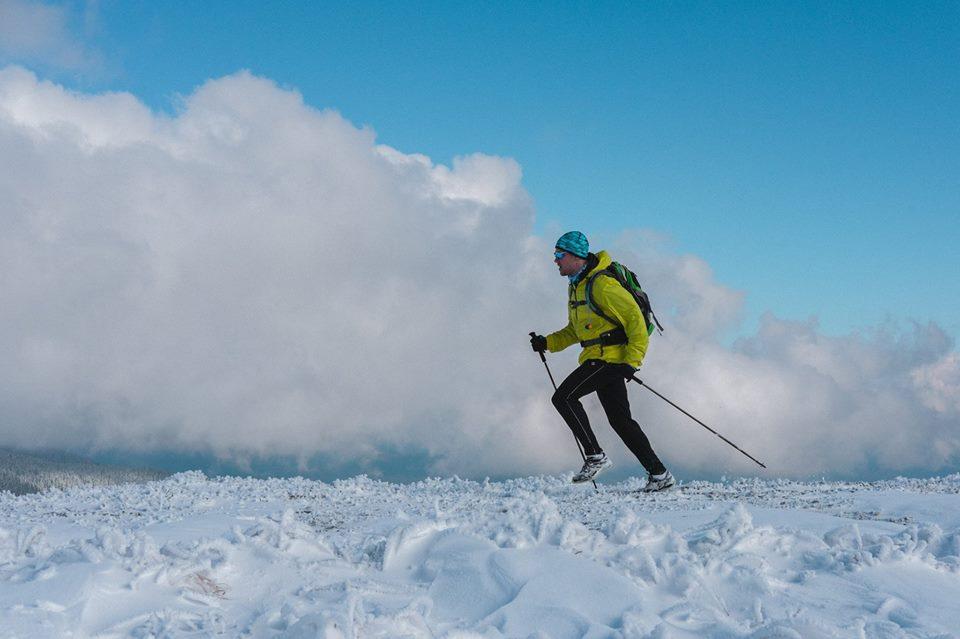 Choosing winter shoes for different type of terrain
dry asphalt and ground
wear a regular running shoes
compacted snow
trail shoes with abrasive soles are suitable for this types of surface
high snow (7-20 cm or 2-7 inches)
slush
trail shoes with abrasive soles and strapped ice spikes or grippers
ice-crusted ground
regular running shoes with strapped ice spikes or grippers
For a trail in winter you need, of course, to use trail shoes with hobnails (screws on the outsoles) or strapped chains for traction. You often need trekking poles to help you out on steep tracks. Also, consider getting yourself running snowshoes for deep snow.
Overall racing in cold weather comes down to your gear and preparation, and it definitely not a reason to miss your training. Moreover, it is an excellent way to strengthen your body and mental fortitude.
What to wear running in Spring or Autumn
Choosing what to wear on a race in Autumn or Spring is somewhat tricky. These two seasons can bring you the best or the worst weather conditions to race. That is, because of temperature changes frequently during the day and it's hard to predict, whether you're going to be hot or freeze on your run.
+10° to +15° C

+50° to +59° F

shorts and t-shirt or long sleeve shirt; sunglasses and cap

if there's rain or wind add a windbreaker or a fleece jacket;

wearing hat and gloves if it's chilly outside

+5° to +10° C

+32° to +50° F

shorts or tights ¾ and t-shirt or long sleeve shirt; sunglasses and cap

0° to +5° C

+32° to +41° F

tights and long sleeve shirt; consider changing your socks to a warmer golfs
+10-15° C or 50-59° F is the ideal temrepature for long distance runs. However, if your goal is PB or record, a little colder temperature (+5°C / 32° F) suits you more.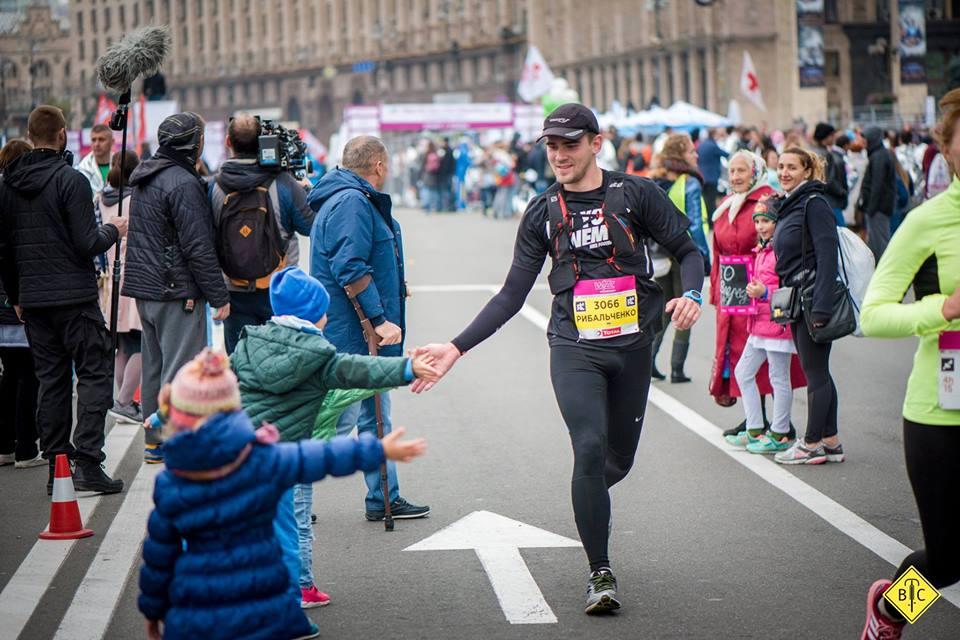 What to wear on a mud run
Besides the temperature, these seasons can bring lousy weather conditions, such as heavy rains, mist (which leads to high humidity), and even snow. We already told you how to dress for winter running. But we didn't mention the mud. And if you're a trail runner, you'll have to deal with it a lot.
First of all, get the mud running shoes with aggressive outsoles, called a mudder shoes. And we highly recommend you don't wear white socks, or at least cover your shoes with running gaiters to protect them from dirt, sand or snow from getting inside. Also, you can get a gloves, so you have a nice grip when you need it.
What to wear running in the rain
You will get soaked to the skin, so just accept it. Though you can get a membrane jacket with waterproof to stay dry as long as possible, but take into account it can be a little hot.
To avoid chafings wear seamless running clothes or lube all seams, especially socks.
If you participate in marathon or half marathon in the rain, prepare a medkit, dry clothes and some towels on the finishing line. You'll need it.
Wear a cap or sunglasses with transparent glass to protect your face and eyes from the rain.
And most importantly don't fight the weather. Just let your inner child out and splash some puddles. You can't get any wetter if you're racing in the rain, but your mental state will get better.
Trail running in Spring and Autumn is fairly the same as road ones, you just need to be a lot more careful. Newbies usually don't expect any tricks from seemingly dangerless objects… until they fall few times.
Wood can be as slippy as stones and rocks
Although fallen leaves can cover other obstacles, like thorns and pits. You need to consider these factors before going on a trail in autumn or spring. If the weather is bad and you feel the urge to race, just make an exception and make it on a road or in-house.
When you dress for a long distance run, remember these basic rules:
choose running clothes like it's 10° higher than it actually is;
running clothes should be made of synthetic materials;
pick a seamless garments or lube all seams to prevent chafing;
and most important, remember the rule of three layers (base layer, insulating layer, and resistant layer)